The Forgotten People
Give elderly their dues, not charity
An eye-opening article from the Asian Age written by Patralekha Chatterjee:
"India's politicians are old. Indian tradition pays homage to the old. But when it comes to the ground reality, millions of elderly Indians are having a terrible time. The elderly in this country have not really been a political constituency. However, this could change with changing demographics. The average life expectancy in the country has risen to 66.8. Worryingly, we appear to be ill-prepared to deal with the longevity dividend."
You can read the full article in pdf format here: Give elderly their dues, not charity
This is our Homeland
This is a Collection of Essays published in 2007, on the Betrayal of Adivasi Rights in India.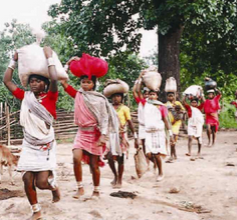 "In the sixty years as an independent nation, India has achieved signicant milestones in the areas of economic growth, cultural assimilation and global political interests. However, the increasing economic growth has not reduced the challenges of the state as far as poverty, exclusion, violence and socio-demographic indices are concerned, and have perhaps been in some ways, a contributing factor. There have been numerous legislations and constitutional provisions to respond to socio-economic-political and cultural disparity and exclusion but much of these efforts have not translated into effective implementation on the ground.
This collection is an attempt to weave together various experiences and struggles documented by people & groups engaged in responding to the situation of indigenous/tribal communities in India. While the compilation covers a range of issues, challenges and possibilities, it is organised in broad areas - the debates around the history and future of 8 adivasi communities, the role of the state, the role of industrialised development and private profit, and the landscape of legislation around adivasi rights. While these are not watertight compartments, each of them has a story to tell and a perspective on how the otherwise rich socio-cultural existence of indigenous/ tribal communities has been systematically reduced to nothingness in the race for growth, development and conservation of natural
resources."
You can read all the essays in pdf format here (191 pages) : This is our Homeland : A Collection of Essays on the Betrayal of Adivasi Rights in India
Adivasis - The forgotten India
An article wriiten for The Hindu by Kalpana Sharma. Although this was written more than a decade ago, a number of issues highlighted in this article sadly remain unresolved.
"Most of the time, Adivasis are obscured from "mainstream" India. They come into focus momentarily when they organise, resist and assert their rights, as they have done most recently in Kerala. The rest of the country suddenly wakes up and looks at them. But the look is no more than a glance, and soon they become invisible again. Whether in Chhattisgarh, Jharkhand, Orissa, Maharashtra, Madhya Pradesh, Tamil Nadu, Karnataka or Kerala, the struggle of tribal communities for their rights is inextricably linked to land and forests. And their story dates back to the colonial times when the British either handed over their land to zamindars or declared it as forestland."
You can read the full article from the archives of The Hindu daily.